How do I block a hosting account?
When a user uses more CPU power and more virtual memory than allowed, our system automatically blocks the user to prevent malfunction. In addition, one of your customers may refuse to pay and therefore you want to block the account itself. You can do that easily with WHM.
Important
Blocking a hosting account does not remove it. If you want to delete a hosting account, please read the article 'How do I delete a hosting account?'.
Steps
Step 1. Log in to WHM.
Step 2. Click 'Manage Account Suspension' in the left menu under the 'Account Functions' category.
Step 3. Select the domain or username you want to block. If necessary, enter a reason for 'Reason (if suspending)' and click 'Suspend'.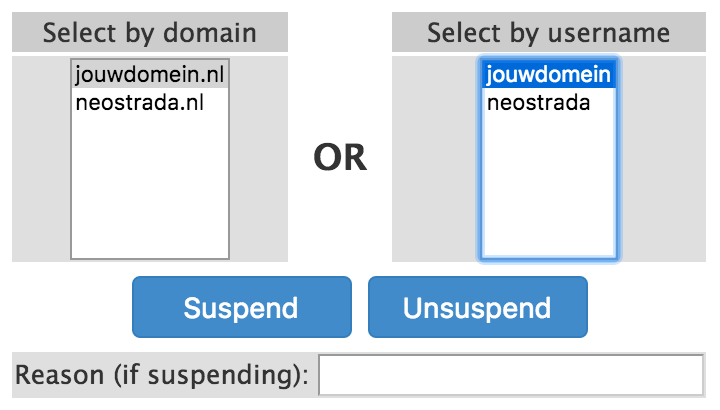 Step 4. The hosting account is now blocked. For a list of all blocked accounts, click 'List Suspended Accounts' in the left menu under the 'Account Information' category.
Unblocking
To clear the blockade, follow the steps above and click 'Unsuspend' instead of 'Suspend'.
This knowledgebase article was last updated on: 16 November 2017